Personalized and affordable, high-level marketing services from Park City, Utah make Redhead Marketing & PR the preferred option for a variety of industries and businesses seeking regional or national exposure regardless of where their businesses are located.
What Sets Us Apart
Besides our New York work ethic and hair color? We are the anti-agency! The small, highly responsive nature of our marketing and PR firm enables us to offer greater flexibility and availability than the traditional ad agency. We partner with a close knit team of wildly talented freelancers, so projects are never handed off to junior staff because there is none. We take pride in becoming a valued member of our clients' teams, enthusiastically offering them an expansive network of contacts coupled with our creative, resourceful nature and customized approach. Redhead has provided integrated marketing services to clients in diverse locales, including Florida; California; Oklahoma; New York City; Utah; Jackson Hole, Wyoming; and beyond.
Our experience working both in the advertising agency world and on the client side gives us a solid, unique understanding of our clients' needs and goals. We welcome partnerships with business from all locales and industries.
Our Marketing Services
Our complete suite of marketing offerings includes:
public relations
brand development & logo design
social media marketing
content creation
copywriting
website development
graphic design & collateral development
event coordination
We have a wealth of experience in a wide range of industries, including:
travel and hospitality
luxury real estate developments
political campaigns
non-profit
sporting & culinary events
technology
lifestyle
entertainment
medical
legal
baby products
Redhead excels at developing our clients' messaging, identifying their audiences, and creating a strategy to effectively communicate across a variety of marketing channels.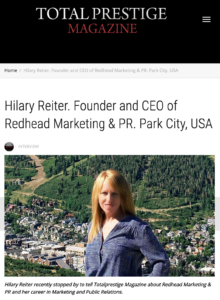 "When I set out on my own I was determined to avoid the standard agency bloat and only collaborate with seasoned experts. This allows me to create the right team that's well suited for each client, resulting in a custom tailored marketing approach. We tend to develop close relationships with the businesses we work with and truly act as an extension of their teams."
"My company used Hilary for a series of events we planned, with very limited time constraints. Not only did Redhead Marketing & PR come through in a pinch, they did it extraordinarily well. Our events sold out and we had a greater-than-expected turnout with a major press/media presence. Hilary was easy to work with, put in more time than was expected and her social media knowledge was above-par. Would highly recommend."