PARALYMPIC CHAMPION GRACES BEAUTY MAGAZINE COVER BEFORE START OF COMPETITION SEASON
Nicole Roundy, a champion Paralympic snowboarder, begins her exciting competition season this week on the heels of being the cover story for The Beauty Battalion's January issue, for which she was handpicked by the magazine's founder and accomplished make up artist, Missy Lovett.
"For the January issue, we wanted to highlight someone who is committed to reaching for and obtaining her goals despite setbacks while staying true to herself," says Missy Lovett. "Nicole fit the bill perfectly, and after meeting her it was obvious that she is truly beautiful inside and out. We are thrilled by the response her cover story has received."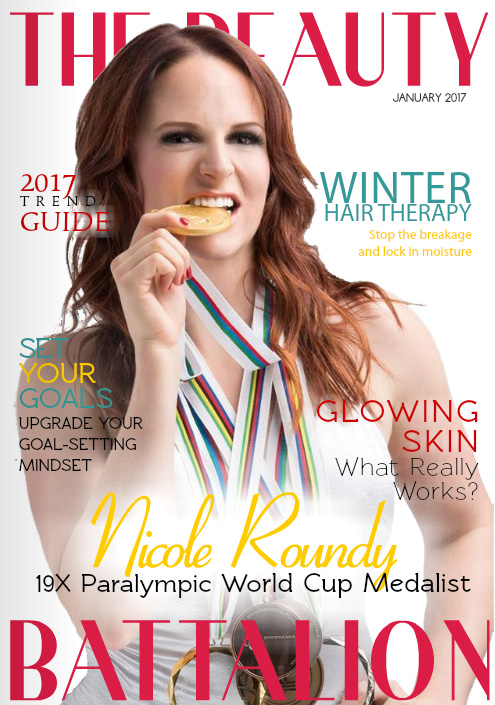 After being on the cover of the magazine which is dedicated to featuring "real" people as opposed to professional models and celebrities, Nicole Roundy headed out on the competition circuit and is scheduled at the following events:
Jan. 24-27: NoRam and World Cup Para Snowboard Cross, Sierra at Lake Tahoe
Feb. 2-7: Big White 2017 World Para Snowboard Championships, Big White, Canada
Feb. 22-24: NoRam, Sundance, Utah
March 8-13: Para Snowboard World Cup Finals, PyeongChang, South Korea
Despite an impressive medal collection from her accomplished career as a competitor, Roundy says, "For me, medals are only a way of measuring progress. It's never about the medal itself.  I want to be the best through dedication, focus and hard work. I'm at a point in my career where this is mostly professional. My objective is to go into every race knowing how to navigate the course to my advantage, to charge and leave it all there. I've been learning to enjoy both the fun and serious elements of this sport in stride."
For more info, visit www.nicoleroundy.com.
About Nicole Roundy
In 1994, at just eight years old, Nicole Roundy was diagnosed with Osteogenic Sarcoma, a form of bone cancer. After aggressive chemotherapy, her right leg was amputated above the knee. She participated in various sports growing up and was introduced to three track skiing in 2002. Her love for the adrenaline associated with the sport motivated her to defy the "impossible" and learn to snowboard. Just four years later, she became the first above-knee amputee to compete in adaptive snowboarding, taking home a silver medal from the United States National Championships. She went on to compete in World Cup snowboard cross, slopestyle, slalom and halfpipe events and in 2014 placed 8th in the Paralympic Winter Games in Sochi. Nicole is a motivational speaker and an advocate for both The National Ability Center and The Challenged Athletes Foundation. Schools, universities and global corporations routinely engage Nicole to speak and inspire. The 30 year-old athlete encourages others to live an active, healthy lifestyle. Her summer activities include CrossFit, yoga, hiking, wakeboarding, and paddleboarding, all of which keep her fit for winter competitions.
Save
Save
https://redheadmarketingpr.com/wp-content/uploads/2014/12/RH_LogoWithTag05.jpg
0
0
admin
https://redheadmarketingpr.com/wp-content/uploads/2014/12/RH_LogoWithTag05.jpg
admin
2017-01-26 17:26:45
2017-01-26 17:29:17
Champion Paralympic Snowboarder Nicole Roundy Begins Competition Season