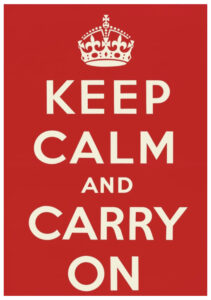 Now more than ever, it's essential for your brand to be ahead of the pack. How you conduct business and set yourself apart during the coronavirus (COVID-19) pandemic will leave an enduring impression on your employees and the public. Many businesses from local to international are quickly adapting their business practices and engaging in new socially responsible initiatives. They are gaining greater brand awareness and new customers while positioning their business in a positive light. Some companies are able to use this time to innovate – just imagine all the new technology that will be born as a result of COVID-19.
It's important to maintain your brand's authenticity during these challenging times, and determine what new strategies you can incorporate that are aligned with your company's culture. Consider your brand's value proposition and the unique role it plays in your customers' lives. This will guide you in determining how your service or product can help customers through the pandemic and make their lives easier and more satisfying. Think of your brand as a weapon for fighting the pandemic.
Digital marketing rules the roost when you can't meet with clients and serve customers face to face. We are all receiving email communications from every company we have ever made a purchase from to outline their COVID-19 response. These are designed to show customers they care and to instill confidence. What messaging can you include that will differentiate your business from the others so it gets read? Any email messaging should also be modified for social media and press releases. If you have been in business for a while, you already know the best mediums to use for reaching your audience – be sure to take advantage of them all.
Here are examples of brands that are standing out during this Corona Crisis:
Peloton – The home fitness giant is offering their app for a free 90-day trial of on-demand workouts without requiring credit card info. What a smart way to gain new fitness devotees and inspire people to become exercise junkies while social distancing.
Showtime – The cable network offered free viewing for a week. You can bet many customers got hooked on certain shows and decided to subscribe as a result.
Google Arts & Culture Museum Tours – Stuck at home during self-quarantine? Google Arts & Culture is offering virtual tours of 2,500 of the world's most renowned museums. Take a tour from your couch of famous museums like the Guggenheim in New York, the Van Gogh Museum in Amsterdam, and the Musee d'Orsay in Paris.
Airbnb – Not only did they relax their reservation policies to fully refund travelers whose vacation rental reservations were impacted by coronavirus, but they are working with hosts to provide free places to stay for healthcare workers and first responders. This allows those on the frontline to be near their patients and safely distanced from their own families.
DoorDash – The food delivery service has eliminated its delivery fees to encourage more customers to support restaurants, an industry that has been disproportionally impacted by the coronavirus outbreak.
OrangeTheory – Check out their website for free daily workout routines designed to be done at home.
Kroger Grocery Stores – They are offering a pre-opening hour for seniors to shop for groceries in addition to free pick up service.
Salt Lake Tribune – The daily newspaper is offering readers complimentary website access to local stories covering coronavirus, a great strategy for gaining new subscribers while showing they care about keeping the public informed.
Examples from Redhead Marketing & PR Clients
Woodside Homes – The national homebuilder is collecting masks and protective eyewear from their trade partners that will be donated to healthcare facilities. They're also allowing interested homebuyers to visit their sales offices and model homes by appointment with an alternative option to tour homes virtually.
Alaska Fur Gallery – The luxury retailer is offering their biggest sale ever for all merchandise. Not only are all items discounted by 50-80%, but 5% of each sale will be donated to the Park City Community Foundation's Community Response Fund (or to the non-profit of the customer's choice in their own community that is serving the needs of those impacted by the virus).
Diversified Bars & Restaurants – A Park City, Utah-based restaurant group is selling gift cards and donating 100% of the proceeds to their employees. This is a feel-good approach to encouraging customers to support their staff and then enjoy a visit to the establishments when they reopen.
Promontory Club – The exclusive, vacation home community in Park City is partnering with the Park City Community Foundation to provide a $10,000 impact grant for the Community Response Fund. The fund will provide immediate support to non-profits helping those in Summit County adversely impacted by the pandemic.
Take some comfort in the fact that this economic downturn was precipitated by a public health crisis, not a deregulated housing crisis run amok as we experienced in 2008. Most analysts agree that when the pandemic subsides, pent up demand for services, goods, and travel will be released. This could be as soon as the 3rd quarter of this year, depending on the extent to which the virus is contained, the promise of a vaccine, the availability of treatment drugs, and the effectiveness of the stimulus package. Your company needs to maintain a strong presence in the meantime, so it is well-positioned to capture business when the economy improves. We are all in this epic pandemic together and will get through it stronger than ever!