WOODSIDE HOMES' NORTHERN CALIFORNIA DIVISION PROVIDES AID TO CAMP FIRE VICTIMS IN CHICO AND FOLSOM, CA
Employees Collected and Purchased Essential Items to Deliver to Salvation Army Locations and Evacuees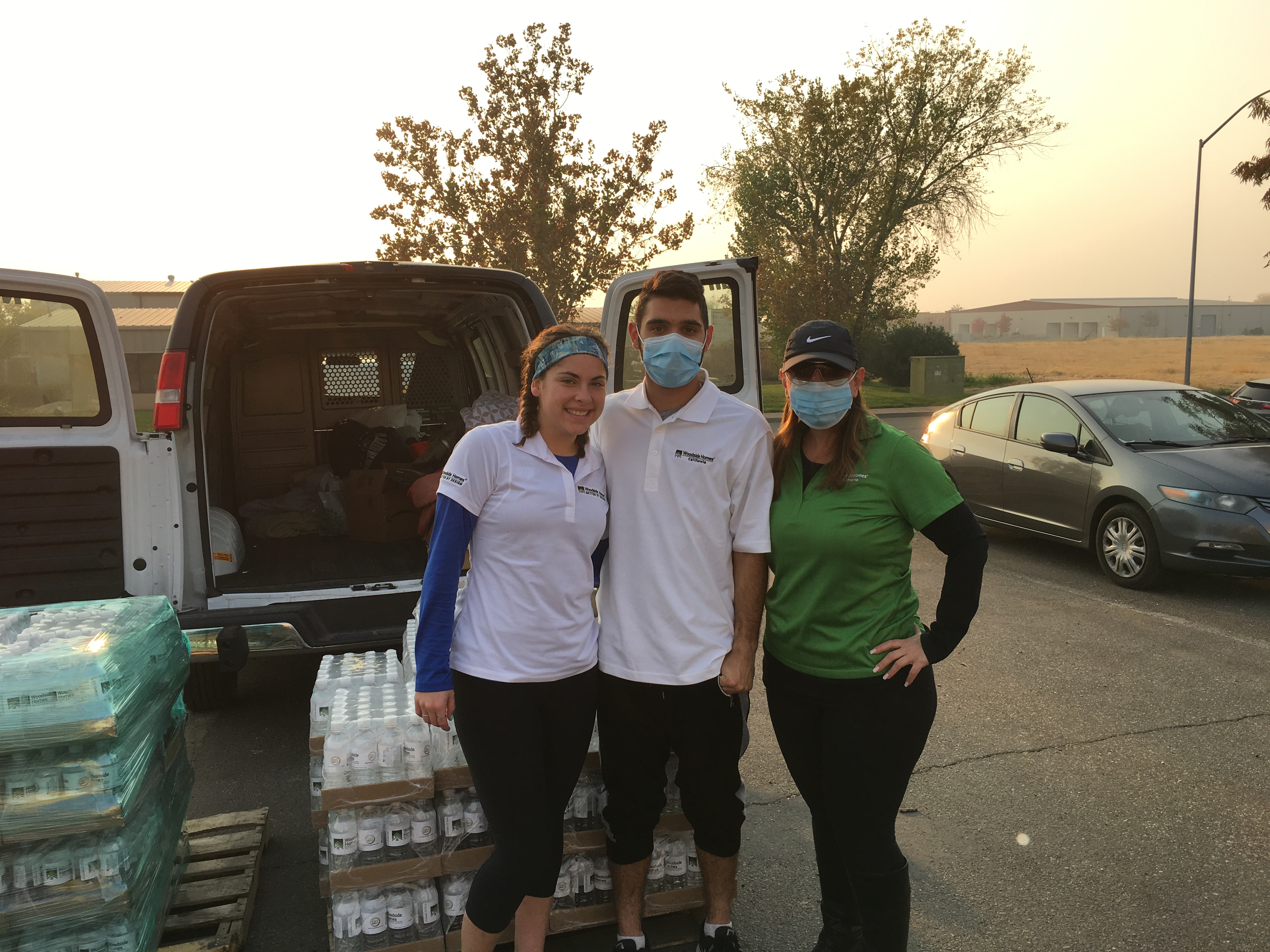 In the wake of the Camp Fire that devastated Paradise, CA, Woodside Homes' Northern California Division employees collaborated to provide aid to their neighbors to the north. They collected clothing such as jackets, socks, slippers, shoes, and underwear, in addition to blankets, pillows, cots, yoga mats, and diapers to donate to evacuees in advance of Thanksgiving. This division of the national homebuilder, which is headquartered in Utah, also provided Safeway and Visa gift cards to evacuees staying in Folsom area hotels who are partnering with the Folsom Chamber of Commerce to provide accommodations. Toni Turnbull, marketing manager of Woodside Homes' Northern California Division, and her son and his girlfriend drove 115 miles to Chico on November 18 to deliver the goods to various collection centers and temporary shelters.
"There is something about working for a homebuilder that makes us feel especially compelled to assist those who have lost their homes, and their gratitude is heartwarming," says Toni Turnbull. "With Thanksgiving approaching, we wanted to do anything we could to make a difference for those impacted by this terrible disaster. We took the donations we collected and purchased, plus 60 cases of water, to two Salvation Army locations in Chico. This was made possible not only by our team, but also by several local businesses in Folsom who contributed more goods to deliver with our load."
In addition to the two Salvation Army locations, they visited a Walmart shopping center in Chico that has sheltered evacuees to deliver fresh coffee and blankets. Turnbull had the opportunity to interact with several fire victims who left quite an impression about how basic their needs are.
She recalls, "I spoke to one individual who asked for the cup of coffee I was drinking, so I happily obliged. He needed it more than I did. I met an older lady in a wheelchair who was shivering from the cold weather, and all she wanted was a blanket, so I gave her my blanket we were using in the van."
Turnbull adds, "Each Woodside Homes division throughout California, Utah, Nevada, and Arizona is committed to local philanthropic efforts, and we are thankful to our employees who rose to the occasion. We hope the victims of these recent California wildfires can return to some semblance of normalcy soon and find warmth and comfort with loved ones during the holiday season."
About Woodside Homes
Woodside Homes, one of the top 30 homebuilders in the U.S., is celebrating its 41st year in the business of designing and building single-family homes for move-up and entry-level buyers. In 2017, Woodside Homes was acquired by SEKISUI HOUSE, one of the world's largest homebuilders. The two companies joined forces with their shared philosophies in creating sustainable communities that grow and adapt to the needs of today's homebuyers.
Founded in 1960, SEKISUI HOUSE has constructed more than two million homes. Based in Osaka, it has approximately 90 subsidiaries and affiliates, 23,000-plus employees, and is listed on the Tokyo Stock Exchange and Nagoya Stock Exchange. Since 1997, SEKISUI HOUSE has positioned its commitment to the environment as a core management target and provided numerous environmentally and sustainably conscious products as a front-runner among industrialized housing manufacturers.
Woodside Homes is dedicated to being "Better by Design," delivering an exceptional experience to every customer and acting as a trustworthy, knowledgeable guide throughout the home buying process. Woodside has sold more than 43,000 new homes since inception, and according to Hanley Wood data, it is the 27th largest homebuilder in the United States. The partnership with SEKISUI HOUSE allows Woodside Homes to evolve and adapt cutting-edge methods in sustainability and efficiency practices.  For more information visit http://www.woodsidehomes.com/.
https://redheadmarketingpr.com/wp-content/uploads/2018/11/Camp-Fire-Donations.jpg
3024
4032
admin
https://redheadmarketingpr.com/wp-content/uploads/2014/12/RH_LogoWithTag05.jpg
admin
2018-11-29 21:31:39
2018-11-29 21:31:39
Woodside Homes Donates to Camp Fire Victims