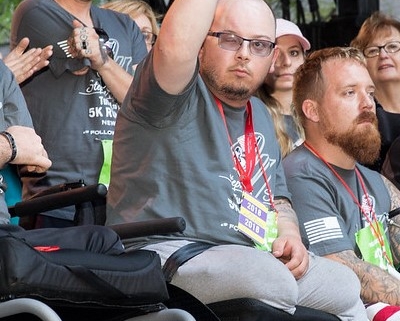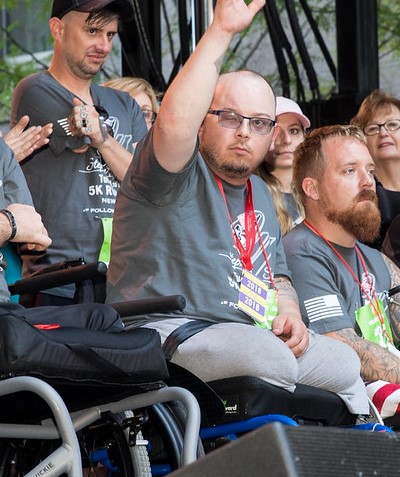 The Stephen Siller Tunnel to Towers Foundation Will Hold a Special Ceremony to Honor Corporal Jeffers and Dedicate His New House on Veterans Day, November 11, 2019
On Veterans Day, Monday, November 11, the Stephen Siller Tunnel to Towers Foundation will present USMC Corporal Timothy Jeffers with the keys to a mortgage-free home through its Smart Home program. The event will honor his service and celebrate his new home in Woodside Homes' Dakota at Audie Murphy Ranch community in Menifee, CA. The community address is 24524 Round Meadow Dr., Menifee , CA 92585. Timothy chose a model to be specially modified for his physical needs, from the overall design of the property down to specific Smart Home features. Since he has only seen the model and not his actual home, the event will serve as both a celebration and a grand reveal. Corporal Jeffers will receive a police escort to his home at noon. A ceremony will follow at which time the Tunnel to Towers Foundation will present the home to Corporal Jeffers. Media is welcome to cover the event.
"Our entire team is excited and proud that Corporal Jeffers chose to have a home built at our Dakota at Audie Murphy Ranch community. It offers a tranquil setting surrounded by the beautiful San Jacinto and San Bernardino Mountains," says Chris Chambers, President of Woodside Homes' Southern California Division. "We're thrilled to be a part of what will surely be an emotional Veteran's Day event to commemorate Jeffers' courage and service while presenting him the keys to his beautiful home." We hope that his Smart Home and our special community provide him with enjoyable, independent living for many years to come."
Corporal Timothy Jeffers, USMC, graduated from Fountain Valley High School in Fountain Valley, CA. He served as a motor transport operator in Iraq's Anbar Province. On May 18, 2006, Corporal Jeffers was severely wounded when he dismounted a security vehicle in a convoy and was the victim of an IED explosion. He sustained severe head and abdominal injuries, lost both of his legs above the knee, a finger on his right hand, and his right eye. While his rehabilitation is ongoing, he enjoys many activities like attending sporting events, fishing, lobster trapping, and surfing with the VA Rehabilitation Activities Department. Timothy's Smart Home will be equipped with everything he needs to continue recovery and live a fulfilling, independent life.
The Stephen Siller Tunnel to Towers Foundation is a national non-profit organization whose mission is to honor the sacrifice of firefighter Stephen Siller (FDNY). On September 11th, 2001, Stephen Siller courageously gave his life to save others. He was wearing 65 pounds of gear as he ran through the Brooklyn Battery Tunnel to the Twin Towers when they collapsed. Tunnel to Towers honors the sacrifices of Stephen and many others by creating programs for injured service members, fallen first responders, and Gold Star families. The Smart Home Program was established to construct specially-adapted, custom-designed Smart Homes for America's most catastrophically injured service members. Corporal Jeffers is the latest beneficiary of this program.
Adjacent to the mountains of San Bernardino, Dakota at Audie Murphy Ranch is a beautiful, rural location surrounded by natural rock formations, rolling acres, and magnificent trees. The community provides convenient access to nearby highways, restaurants, shopping, and entertainment.
https://redheadmarketingpr.com/wp-content/uploads/2019/11/jeffers-2-1.jpg
477
400
admin
https://redheadmarketingpr.com/wp-content/uploads/2014/12/RH_LogoWithTag05.jpg
admin
2019-11-06 21:29:03
2019-11-06 21:29:05
USMC CORPORAL TIMOTHY JEFFERS TO BE PRESENTED WITH MORTGAGE-FREE SMART HOME IN WOODSIDE HOMES COMMUNITY IN RIVERSIDE COUNTY, CA