Four ongoing events support local vendors while providing opportunities for the community to safely gather
The Gateway, Utah's premier destination for dining, entertainment, and shopping, has successfully re-launched its event programming in keeping with social distancing guidelines and safety protocols. A variety of recurring events will be held throughout the summer to cater to every whim and interest. These include Free Movies on the Plaza, Yoga on the Plaza, Urban Flea Market and the Art &Craft Market presented by the Utah Arts Alliance. "While our programming may look a little different, The Gateway remains committed to fulfilling our mission to be a vibrant venue for community gatherings and events," says Jacklyn Briggs, The Gateway's marketing director. "We and our partners are closely following CDC and local guidelines to ensure the safety of our vendors, tenants, and patrons. We're very pleased by the enthusiastic response these modified events have received from the community and the sense of normalcy they provide to those who attend."
Below are the regularly programmed events through the summer. Additional events can be found at http://shopthegateway.com/calendars/
ART & CRAFT MARKET PRESENTED BY UTAH ARTS ALLIANCE
Saturdays, 10 am – 2 pm until October in front of Hall Pass and Urban Arts Gallery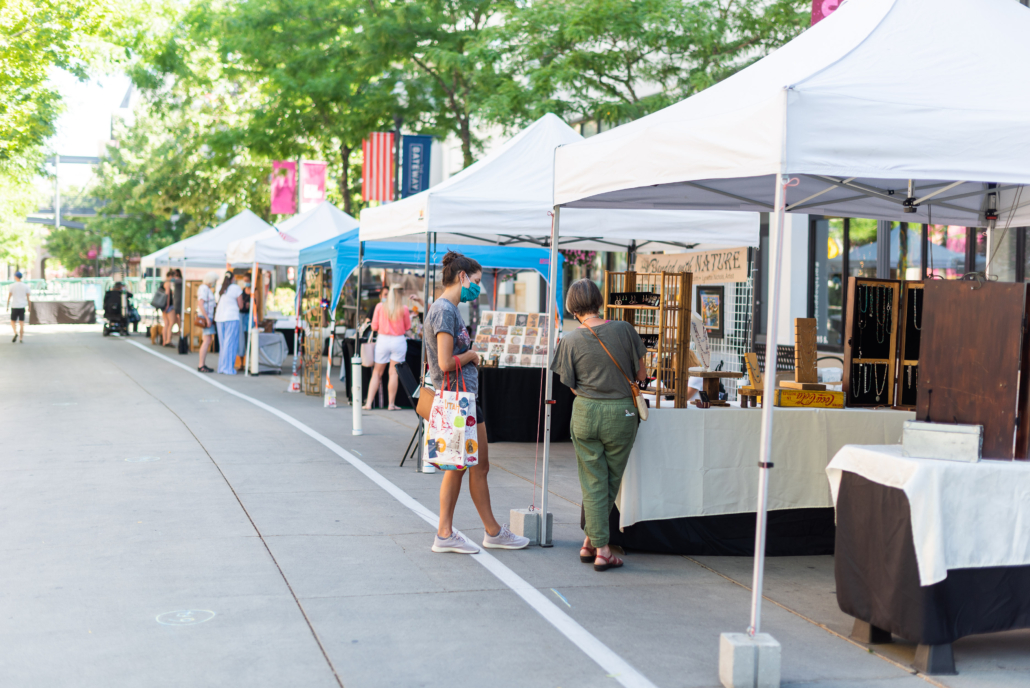 The craft portion of the Salt Lake Farmers Market at Pioneer Park has relocated to The Gateway to provide vendors and shoppers with more space to physically distance. The outdoor street market features Utah vendors offering their unique handmade products. Masks are required.
MOVIES ON THE PLAZA
Wednesdays, 9 pm at Olympic Plaza

Olympic Plaza sets the stage for free, feel-good movies every Wednesday night until the end of August. Family-friendly films include Crazy Rich Asians, Lion King (2019), and Star Wars: The Rise of Skywalker. Filmgoers are welcome to bring blankets and camping chairs and are encouraged to order take out from any number of restaurants at The Gateway to enjoy during the screening. Advance registration is required for groups up to six people. Each reservation will be assigned a specific spot on the Plaza. See the full line up.Masks are required for check in and may be removed upon arrival to reserved spot.
URBAN FLEA MARKET
2nd Sunday of the month, Aug. 9, Sept. 13, Oct. 11, 10 am – 4 pm
Entree fee – $2

Discover treasures from eclectic, local vendors. Booths are spread out to encourage social distancing, and aisles are marked for one-way traffic. Masks are required for vendors and visitors, and hand sanitizer stations are available.
YOGA ON THE PLAZA
Sundays, 10 am – 11 am
All levels of yogis are invited to stretch out the weekend and get in the flow with Salt Lake Power Yoga. The free Sunday series is held outside The Grand Hall on the upper level of The Gateway. No experience is necessary, but participants must bring their own mats due to coronavirus health measures. Capacity is limited to 50; sessions have been filling up, so pre-registration is required. Once 50 guests have been reached, there is a waitlist option. Masks must be worn upon arrival and may be removed once at designated practice location. Hand sanitizer stations are also available.
About The Gateway: 
The Gateway is a 1.4 million square foot lifestyle destination in the heart of Downtown Salt Lake City. Owned and managed by Vestar, the property recently underwent a $100 million redevelopment—infusing retail and dining, entertainment, modern office space, arts and culture, a boutique hotel, and a full calendar of community-driven events.  
About Vestar: 
As one of the leading privately held real estate companies in the United States, Vestar acquires, develops and manages shopping and entertainment destinations that serve as community focal points. Since its inception in 1989, Vestar has earned a reputation for integrity and responsibility in the fields of retail property development, operations, leasing and marketing. Vestar's current portfolio of retail properties totals 30 million square feet throughout the western states. For more information, please visit vestar.com.