THE GATEWAY CELEBRATES EARTH DAY DURING THE MONTH OF APRIL
Pedal for the Planet Challenge with GREENbike and Dreamscapes' scavenger hunt promote sustainability and clean energy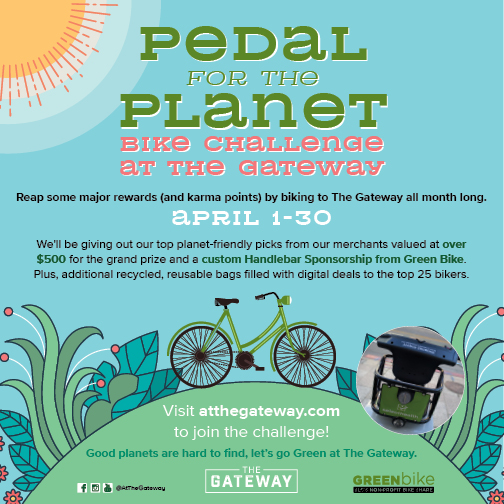 In honor of Earth Day, The Gateway is encouraging a healthier approach to preserving the planet throughout the entire month of April. This year, The Gateway joins GREENbike, Utah's only nonprofit bike share program, for Pedal for the Planet, a month-long challenge that promotes the use of clean, green transportation within Salt Lake City. Dreamscapes,the immersive art attraction now in a new location at The Gateway, will celebrate on Earth Day (April 22) with a RE-imagination scavenger hunt.
From April 1-30, a full-day GREENbike rental will cost just $.01 by using the code 042021. Participants will be automatically entered into the drawing for a grand prize of planet-friendly gifts valued at $500 and a custom Handlebar Sponsorship from GREENbike. In addition to the grand prize, recycled, reusable bags filled with digital deals will be awarded to the top 25 bikers. Participants must rent or dock the bikes from The Gateway station located at 100 S. and Rio Grande St. Personal pedal-powered transportation is also welcomed – just tag @atthegateway #pedalfortheplanet for entry purposes. Bikers are encouraged to explore the various merchants within The Gateway complex. Full details on the bike challenge are available at atthegateway.com/calendars/pedal-for-the-planet/.
On Earth Day (4/22), Dreamscapes  presents "RE-imagination," a scavenger hunt emphasizing the importance of up-cycling and transforming secondhand items into new attractions. For this interactive event, visitors will be given a small card with prompts to find repurposed items throughout Dreamscapes for prizes. Admission tickets and reservations will be required and can be purchased here.
"The Gateway is the perfect place to ride your bike, with our wide-open streets and given the nature of our outdoor center," says Jacklyn Briggs, Director of Marketing for The Gateway. "We are centered around plenty of Earth-friendly transportation options, like GREENbike, so in honor of Earth Day we want to make it easy and accessible to come explore The Gateway while doing a little something to reduce pollution."
About The Gateway:
The Gateway is a 1.4 million square foot lifestyle destination in the heart of Downtown Salt Lake City. Owned and managed by Vestar, the property recently underwent a $100 million redevelopment—infusing retail and dining, entertainment, modern office space, arts and culture, a boutique hotel, and a full calendar of community-driven events.
About GREENbike:
Utah's only non-profit bike share is a public/private partnership between SelectHealth, Salt Lake City, UTA and other private sponsors. GREENbike aims to reduce carbon emissions and automobile traffic congestion by taking cars off the road, while simultaneously encouraging healthy lifestyles.