PARK CITY, UTAH'S ALPINE DISTILLING ADDS MORE PRESTIGIOUS AWARDS TO ITS COLLECTION
Traveler's Rest 88 Proof Single Malt Whiskey and Persistent Vodka Earn Gold and Silver Medals, Respectively, at 2017 SIP Awards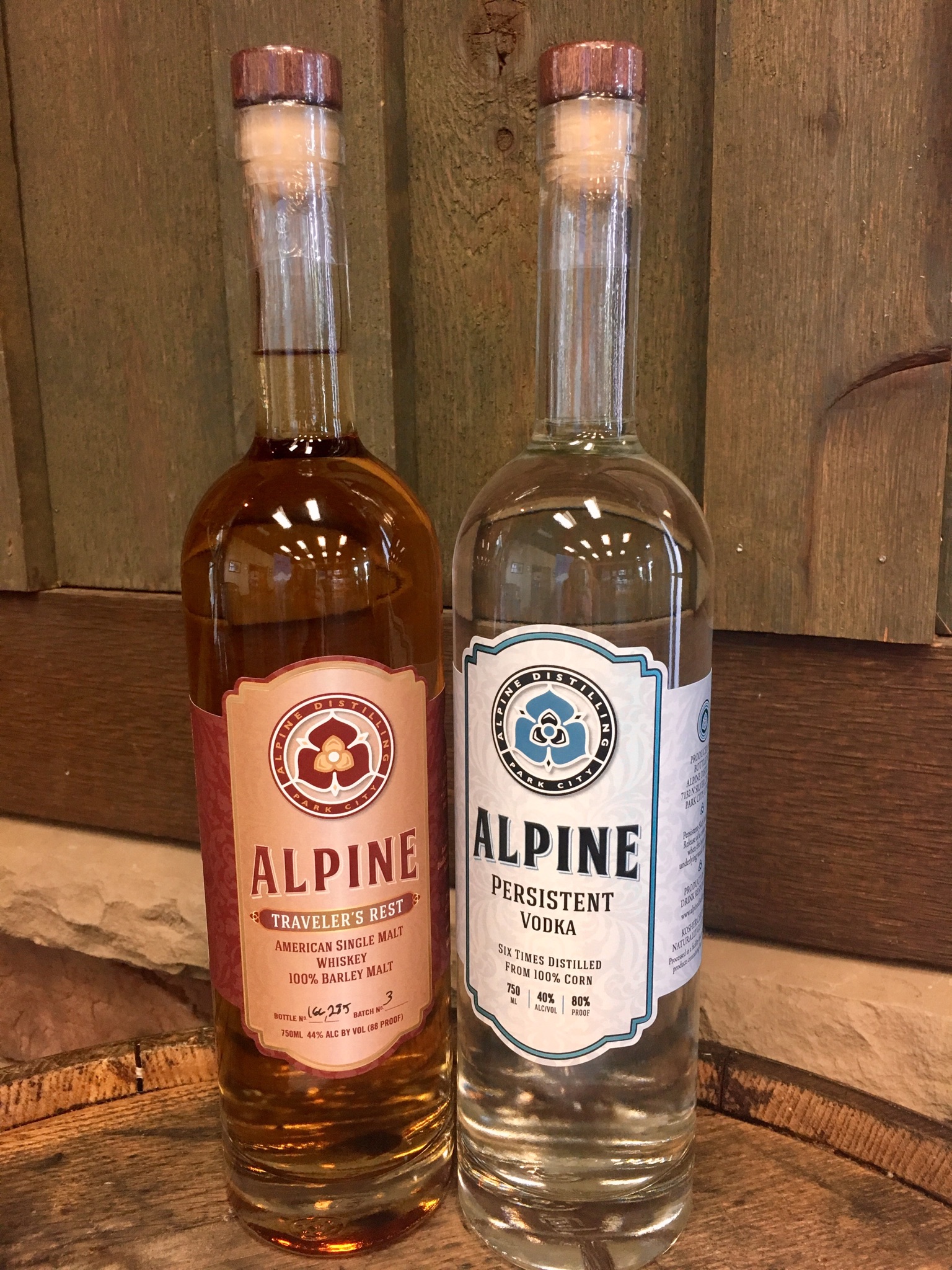 Following a hugely successful result at the 2016 International Consumer Tasting SIP Awards where Lafayette Bourbon won a Gold Medal and Preserve Liqueur won Platinum, Alpine Distilling came home with two more awards for its craft spirits in 2017. The SIP Awards announced this month that Traveler's Rest 88 Proof American Single Malt Whiskey was awarded Gold while Persistent Vodka was awarded Silver.
The only Gold medal-winning single malt, Traveler's Rest is characterized by nutty, mocha and banana notes. This smooth, drinkable whiskey is aged in Missouri Oak and finished with toasted French Oak to accent subtle vanilla spice, which complements the 6-row barley base.
The 100% corn, gluten free, and non-GMO Persistent Vodka is cut with demineralized, lightly acidic water to create a crisp flavor that is delightful over ice or as a neutral spirit served in cocktails. Clean and slightly sweet, it is distilled six times.
"As a new distillery, it is especially gratifying that all four submissions have earned such high accolades from tasters," says Distiller and Founder Rob Sergent. "We have enjoyed an equally enthusiastic reception from our local community in Park City and from highly regarded food and beverage industry professionals worldwide. We're looking forward to expanding our distribution throughout the U.S., in overseas markets, and online."
Water is a key factor in the superior taste Alpine's spirits offer. The distillery's Park City, Utah facility was chosen specifically for the water supply, which comes from an under-mountain aquifer that arrives at the distillery at 52 degrees, 354 ppm and at a pH of 8.0. Working with Water Science's experts, a carbon-filtering and double reverse osmosis system was engineered to both soften and balance the natural electrolytes while reducing the harsh iron.
Alpine Distilling's products can be purchased directly from the distillery and will be available in Utah State Liquor Stores beginning this month. It is also served by many fine Park City establishments.
ABOUT ALPINE DISTILLING
Founded in 2016, Alpine Distilling is an award-winning craft distillery based in Park City, Utah. We produce the highest quality premium spirits for the active, creative, and mindful individuals who are drawn to the mountain lifestyle. All products are certified Kosher. As a socially conscious brand, Alpine Distilling is pleased to donate a portion of proceeds to benefit local non-profits Park City Community Foundation and Swaner Nature Preserve. More information is available at www.alpinedistilling.com.
https://redheadmarketingpr.com/wp-content/uploads/2017/06/TravelersRestPersistent.jpg
2048
1536
admin
https://redheadmarketingpr.com/wp-content/uploads/2014/12/RH_LogoWithTag05.jpg
admin
2017-06-09 10:17:28
2017-06-09 10:17:28
Alpine Distilling Wins Two SIP Awards