2nd Annual Salt Lake Food & Wine Fest to Be Held September 11-16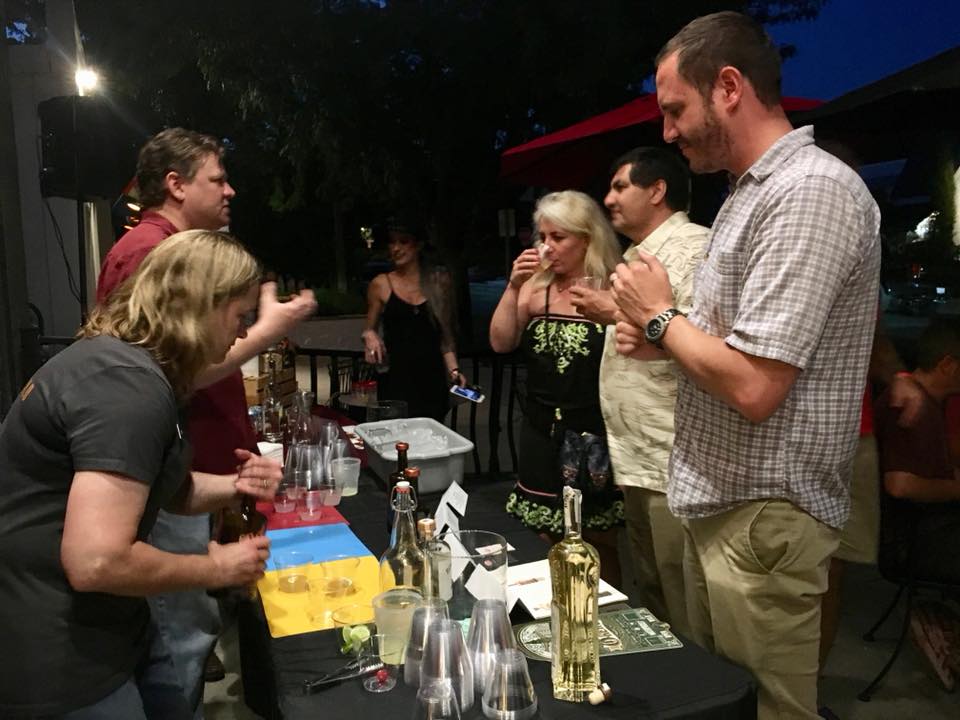 Following a successful inaugural event last July, The Salt Lake Area Restaurant Association (SLARA) will present an even more robust Salt Lake Food & Wine Fest to showcase this Western gastro capital's cutting-edge culinary offerings. From September 11 to 16, 2018, a menu of themed events at a variety of exciting venues will appeal to food lovers and wine, spirits, and beer enthusiasts. Individual admission certificates are available online at slfoodandwinefest.com. Those traveling to Salt Lake to enjoy the Fest can take advantage of special lodging rates at the Hilton Salt Lake City Center by booking here.
"We were elated with the response to last year's event by attendees, media, and sponsors," says Michele Corigliano, Executive Director of SLARA. "Given Salt Lake's hot summers, we felt we'd attract an even bigger turnout in September, so we have shifted the dates. We are adding new events and venues this year to highlight Salt Lake's best culinary talent."
Meet Your Maker, the Fest's signature event, will be held on Saturday, Sept. 15. Designed to be a celebration of Utah's own food producers, breweries, distilleries, and independent restaurants, the outdoor event will take place on Regent Street in downtown Salt Lake City. It will feature cuisine samplings from Salt Lake's most notable chefs, cocktails from local distilleries, and beer from local breweries, in addition to musical entertainment, and a VIP section. General admission is $95, and VIP tickets are $135.
Salt Lake Food & Wine Fest sponsors include Nicholas & Co. and Salt Lake County. Various sponsorship opportunities are still available. Interested parties are welcome to contact Michele Corigliano at Michele@slara.org or 801.558.8977. Sponsors will receive complimentary tickets for an exclusive VIP cocktail area located within the Meet Your Maker event.
"The event is designed to celebrate what is bountiful in Utah like heritage breed pork, local lamb, seasonal vegetables, and trout," says Scott Evans, Founder of Pago Restaurant Group and mastermind of the Meet Your Maker event. "We are pairing each of those products with two chefs who will cook everything over a live fire. It will be a big party outside on Regent Street to celebrate where we live and what we are proud of when it comes to culinary greatness and producing fine beer and spirits."
The Salt Lake Food & Wine Fest is the annual fundraiser for SLARA, which advocates for and promotes the local food and beverage industry.
The following is a sampling of events that will be held during the Salt Lake Food & Wine Fest. A full listing of events and details, pricing, and purchase of certificates for admission to events is available at: www.slfoodandwinefest.com.
Tuesday, Sept. 11
Five Course International Dinner with Wine Pairing prepared by James Beard-nominated Chef Ed Heath and Conversation with Former Republican Utah State Senator Steve Urquhart at Martine
Dinner with Local Wine Pairing at Table X (two seatings)
Wednesday, Sept. 12
Japanese Whiskey Tasting at Post Office Place
Beer Tasting/Education at Purgatory
Tea & Cheese Tasting at Tea Zaanti
Classics of Food & Wine Pairing at Cliff Dining Pub
Thursday, Sept. 13
Tiki Takeover Rum Tasting/Education at Water Witch
Cocktail Takeover with Beehive Distilling at Tin Angel
Wine Dinner at Provisions
Friday, Sept. 14
Natural Wine Dinner (5 courses, 5 wines) at Pago
Paranormal Night at Dented Brick Distillery
Saturday, Sept. 15
Meet Your Maker on Regent Street
Brunch & Bubbles Cooking Class at Park City Culinary Institute
Sunday, Sept. 16
Shades of Pale Tap Takeover at Bucket of Crawfish
Olive Oil Education & Wine Pairing at We Olive
Beer School Brunch at Proper Brewing
Media interested in previewing the Salt Lake Food & Wine Fest or covering specific events may contact Hilary Reiter at Redhead Marketing & PR, 435.901.2071 | Hilary@redheadmarketingpr.com
https://redheadmarketingpr.com/wp-content/uploads/2018/08/38852872_1928711403884447_3213393852538814464_n.jpg
720
960
admin
https://redheadmarketingpr.com/wp-content/uploads/2014/12/RH_LogoWithTag05.jpg
admin
2018-08-16 10:02:20
2018-08-16 10:02:20
SLC Foodies Unite for Food and Wine Fest