PROVO ENTREPRENEUR LAUNCHES NEW APP TO REDUCE TRIPS TO STORES FOR HIGH-DEMAND ITEMS DURING CORONAVIRUS PANDEMIC
It Arrived notifies consumers when items they seek are in stock at local retailers
It Arrived is a new app that aims to reduce additional, unnecessary trips consumers make to stores for high-demand items during the coronavirus pandemic. Developed by a former director of a Provo grocery store and founder of raceentry.com, rodeoticket.com and strideevents.com, the app allows customers to subscribe for notifications when their selected stores receive the items they are looking to purchase. Each customer can choose the products they would like to receive notifications for. The app and user account is free. To receive the alerts, there is a nominal subscription fee of $2.99 for the first store and 99 cents for each additional store. The app is available for Android and iOS devices. It Arrived is launching with Utah stores, but plans are underway to quickly add retailers in other states throughout the country.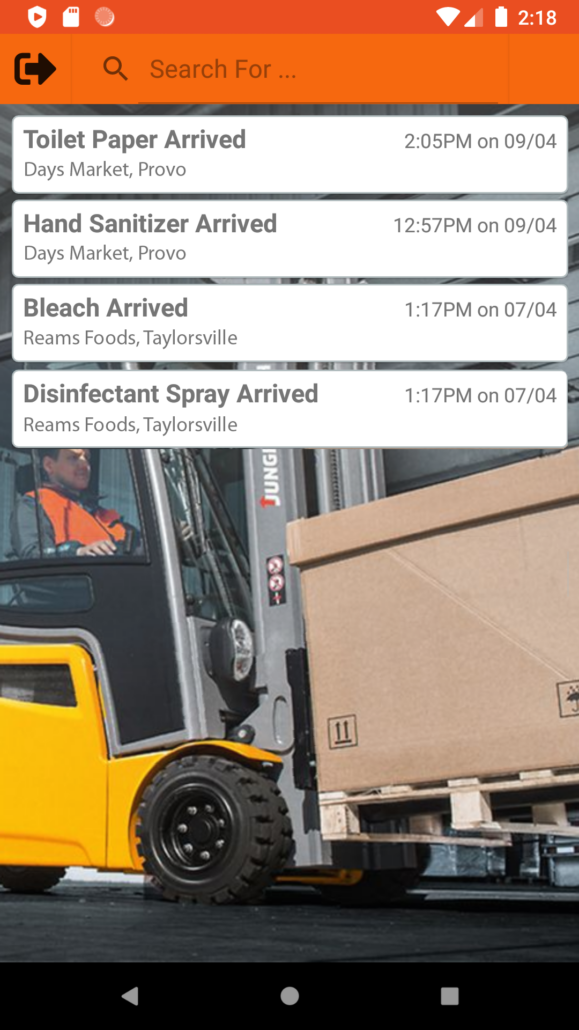 The CDC guidelines include limiting trips to the store to once a week, but many consumers are finding that's not possible when they can't find products they're seeking, particularly items like disinfectant, hand sanitizer, and toilet paper," says Hyrum Oaks, Founder of It Arrived. "The app is a convenience and safety measure for both store employees and their customers and strives to reduce COVID-19 exposure and community spread. Our hope is to help people minimize their trips to the store, so they're going only when they know their desired items have arrived."
Utah retailers that have joined It Arrived include:
Days Market – Provo
Edgemont Pharmacy – Provo
Kohler's Food Store – Lehi
Payson Market – Payson
Reams – Salt Lake City
Reams – Taylorsville
Reams – Kearns
Reams – Magna
Reams – Sandy
Reams – Cottonwood Heights
As the owner of event-oriented website businesses, Oaks was forced to lay off some employees due to regulations banning mass gatherings. Instead of continuing to lay off more employees, he pivoted his business to create software that went back to his roots as a store director of a grocery store in Provo.
"There has been a remarkable amount of innovation and adaptation as a result of coronavirus, and we wanted to work within our wheelhouse to provide a solution to help alleviate a pain point for both consumers and retailers," Oaks says.
There is no long-term commitment required (subscribers can cancel at any time). While the app informs customers when the in-demand products arrive, there is no guarantee that the items will still be available when customers make their visits.
For more information, visit www.ItArrived.org.
https://redheadmarketingpr.com/wp-content/uploads/2020/04/App-Still-Image-1.png
1920
1080
admin
https://redheadmarketingpr.com/wp-content/uploads/2014/12/RH_LogoWithTag05.jpg
admin
2020-04-16 12:49:02
2020-04-16 12:49:55
New App Informs Consumers When High-Demand Products Arrive