The Gateway to Serve as High-Energy Hub for NBA All-Star Weekend in Salt Lake City
Grit Rail Jam Snowboarding Competition, Cactus Jack Concert Series, The Shop Salt Lake City pop-up experience, and more welcome the public to celebrate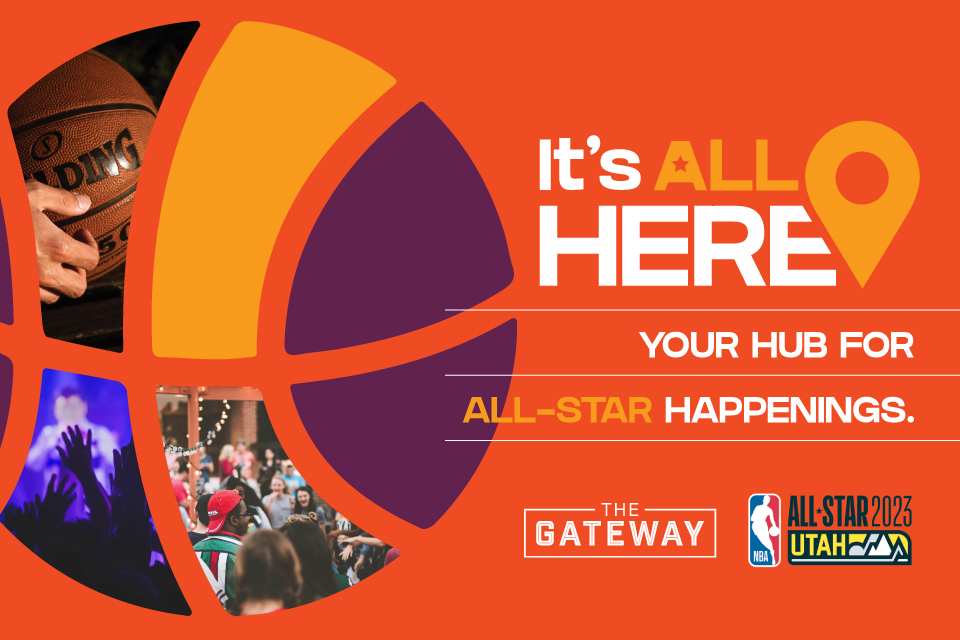 The Gateway is slated to be an exciting NBA All-Star weekend hub with dynamic activations for the community to celebrate from February 16 to 19. Programming includes the Grit Rail Jam, The Shop Salt Lake City pop-up retail experience, Cactus Jack Concert Series at The Depot, Under Armour Basketball Experience and Utah Jazz Catapult at Discovery Gateway Children's Museum. Several Gateway merchants will host All-Star game viewing parties while American Express will sponsor a large, outdoor screen to show the action on the court. Many activities are free and open to the public. With UTA offering zero fare transportation to keep traffic moving throughout the weekend, visitors to The Gateway are strongly discouraged from driving as parking rates and availability will be at a premium.
"We are so thrilled to offer the energy of NBA All-Star at The Gateway and once again host high-caliber athletes as we did during the 2002 Olympic Winter Games," says Jacklyn Briggs, The Gateway's director of marketing. "As an official hub with a variety of free activations, even those without tickets to the game can partake in the magic. It promises to be a weekend to remember for our sports-loving community!"
 Grit Rail Jam presented by the Utah Sports Commission, The Gateway, Utah Jazz, and Cactus Jack
Friday, February 17, 2:00 to 6:00 p.m. and Saturday, February 18, 3:00 to 6:00 p.m.
A free-to-attend, daytime snowboarding competition that will take place at the Olympic Legacy Plaza. Organized by Jeremy Jones in partnership with Travis Scott, the two-day event will feature amateur riders on the rails Friday. Professional athletes, including Zeb Powell, Dusty Henrickson, Denver Ore, Maggie Leon, Jill Perkins, Maria Thompson, Kaleah Opal, Egan Wint, Zak Hale along with the top female and male amateur riders from Friday, will compete for medals and cash prizes on Saturday. Scott will be in attendance during the Saturday competition to cheer on the finalists.
The Shop Salt Lake City
Thursday, February 16 to Saturday, February 18, 10:00 a.m. to 8:00 p.m. and Sunday, February 19, 11:00 a.m. to 4:00 p.m.
The Shop Salt Lake City will activate in two separate locations with five national brands located at 16 North Rio Grande and one at 15 S Rio Grande within The Gateway. An innovative pop-up retail experience will include activations from Cactus Jack, MRKT, StockX, The Webster Miami, CounterPoint (the Utah Jazz private-label apparel and lifestyle brand), and Mitchell & Ness featuring SLAM and Thrifthood. The Shop plans to drop daily exclusive merchandise all weekend. This is curated by fashion veteran Calyann Barnett in partnership with the Jazz.
Cactus Jack Concert Series at The Depot
Friday, February 17 and Saturday, February 18 at 8:00 p.m.
The Depot at The Gateway is the hosting venue for the Cactus Jack Concert Series, which has been specially curated by Travis Scott. Don Toliver and Sheck Wes will take the stage on Friday, Feb. 17. Special artists to headline the series on Saturday, Feb. 18 will be announced shortly. Chase B is the concert series DJ. The Depot is located at 13 North 400 West. Tickets are now sale through The Depot via this link.
Under Armour Basketball and Curry Brand
Friday, February 17 and Saturday, February 18, 11:00 a.m. to 6:00 p.m.
To promote the latest innovations in basketball footwear and some surprises from the past, Under Armour will be hosting a two-day event suited for basketball fans of all ages.
Fans will get their chance to recreate the iconic 'Bang! Bang!' shot from Stephen Curry, create their own magic on the UA Court, and receive a custom tee of their favorite UA Basketball athlete along with much more fun. Special appearances will be made by Famous Los, Maxisnicee, Rachel DeMita, Tristan Jass, Dipika Dutt, and more. You might even catch a glimpse of UA Basketball athletes.
This event is held at 110 South Rio Grande.
For more information visit www.UABasketballEvents.com
American Express: Outside the Court Activation
Friday, February 17 to Sunday, February 19
American Express will have its first-ever "Outside The Court" activation at The Gateway. Outside the Court, which is open to all fans, will feature a number of epic experiences, including a tailor shop where fans can customize their own All-Star merchandise, food and beverages from local Salt Lake small businesses, a fun, interactive basketball-themed photo opp where fans can recreate iconic 'on-court' images, as well as a speakeasy-style "Dirty Soda Shoppe" serving signature dirty sodas curated, exclusively available to Card Members (and up to three guests) on a first-come-first-serve basis. On Saturday and Sunday evening just outside the "Outside the Court" experience, American Express will also be hosting Block Parties from 5:00 to 9:00 p.m. that will be live-streaming the All-Star Weekend action for those who may not have tickets to the games. Fans can also watch live, ice sculpture carving come to life, cozy up by outdoor firepits, play fun oversized games, and enjoy delicious treats, coffee, tea and hot cocoa from local Salt Lake small businesses.
 Discovery Gateway Children's Museum
The Utah Jazz All-Star Alliance has partnered with Discovery Gateway Children's Museum to build the Utah Jazz Catapult that launches basketballs at a hoop by stomping on a foot lever in a study of force, momentum, and gravity. Now open in advance of NBA All-Star 2023, the catapult will be a permanent, legacy exhibit as part of regular admission to the museum.