MagicDock, World's First iPad Docking Station, Surpasses Kickstarter Goal in 1st Day
Eight Times the Campaign Goal of $8,000 Reached in First Week of 30-Day Campaign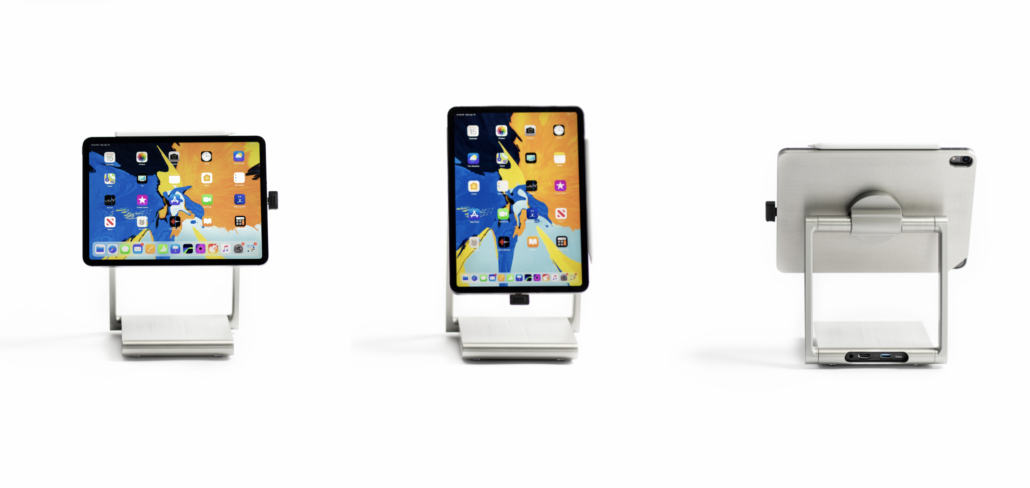 From the heart of Utah's Silicon Slopes comes MagicDock, the first desktop docking station designed specifically for the iPad Pro. The early success of the 30-day Kickstarter campaign that launched on July 22, 2019 is a clear indicator that iPad users have a need for this innovative accessory. The campaign goal was $8,000. By the eighth day, fundraising had already surpassed $60,000. The average pledge amount has been $108.
CEO and entrepreneur Steve Warren, whose background is in design and marketing, created MagicDock as a result of his unsuccessful, exhaustive search for a docking station for his iPad Pro. Warren then set out to identify all the features he wanted a docking station to offer to empower iPad Pro users to work flexibly, comfortably, and efficiently. He drew what he had in mind and hired an engineering team to design the accessory. What resulted after a few iterations is a sleek, minimalist design that includes the patent-pending MagicGear, a 90-degree rotational mechanism that allows users to easily alternate between landscape and portrait modes. MagicDock conveniently lowers the iPad to desk level to function more like a computer. It also has four ports on the backside – a 3.5mm audio port, a 4K HDMI port, a USB 3.0 port, and a USB-C port for charging for users to connect all their peripherals. MagicDock has been created in 11" and 12.9" sizes and will be available in silver or space gray color options.
Steve Warren, MagicDock's creator and CEO, says, "It's truly gratifying to see the incredible enthusiasm for MagicDock after surpassing our Kickstarter campaign goal in the first day. Clearly, this indicates a strong demand in the marketplace for this type of accessory. We are excited to see where this campaign goes and to launch the product for availability this fall."
Based on their needs, Kickstarter contributors may select from 18 different reward levels, starting at the $99 Early Bird pledge (limited to 500 backers) in exchange for one 11" MagicDock at $40 off the expected retail price of $149. Those who pledge $119 or more will receive $20 off the expected retail price of $139 for the 11" size. Reward levels are also created with businesses in mind. Those pledging $1,290 or more will receive ten 12.9" MagicDocks at $20 off the retail price. Estimated delivery is October 2019.
Retail price for MagicDock is tentatively planned to be $139* for the 11" model, and $149* for the 12.9" model (*pricing subject to change). Warren and his partner, COO Steve Peterson, are currently sourcing manufacturers and collecting quotes for production. It is expected to be available via Magic-Dock.com, and retail partnerships are being pursued.
For more info, visit the MagicDock Kickstarter campaign at: https://www.kickstarter.com/projects/stevewarren/magicdock