Salt Lake City-Based Troubadour 77 to Release EP Featuring New Music with Classic Rock Sound
Redhead Marketing & PR is getting back to our New York City music industry roots with an exciting new project by Grammy Award-winning songwriters and husband-wife team Anna Wilson and Monty Powell. Their new band, Troubadour 77, will be releasing its debut EP on April 7, and we're pleased to be handling their PR campaign. Look for them at the BottleRock Festival in Napa over Memorial Day weekend! Here's a press release distributed today: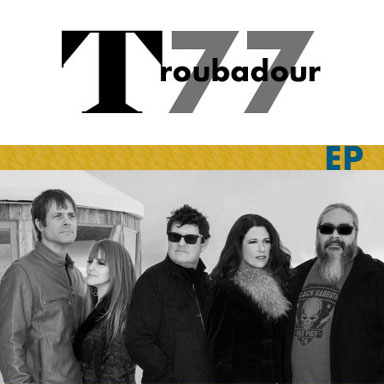 Seeking to revolutionize the youth-dominated music industry, Grammy award-winning songwriters Anna Wilson (piano/lead vocals) and Monty Powell (guitar/vocals) have formed Troubadour 77 (aka T77). The band's mission is to create new music with classic rock influences that appeal to older Generation Xers and Baby Boomers, two generations largely neglected by contemporary artists. Having been staples of the Nashville music scene for years, the husband-wife duo is now based in Salt Lake City with fellow band members Nathan Chappell (drums) and another pair of husband-wife musical collaborators Austin Weyand (guitar) and Kassie Weyand (bass). Troubadour 77 will release their "Troubadour 77 EP," a collection of four songs written by Wilson and Powell, on April 7, 2017. It will serve to introduce the band to older classic rock fans marginalized by the industry and left longing for original music that resonates with them. Pre-Sale begins exclusively at iTunes on Friday, March 24, 2017.
Appealing to the modern music consumer who craves new content and continual engagement, the EP will kick off what T77 is calling a "progressive album" that will be completed over the next seven months by releasing one new song on the first Friday of each month, leading up to the full-length album that will be fully packaged and available on December 1, 2017.
Wilson says, "We like that we can leak songs out a little at a time to build anticipation for the full album. It feels like a win-win for listeners who like to get their music one song at a time, and also for the old school fan who appreciates a beginning-to-end listening experience. For those wanting the complete "progressive album" in advance, it will be available for download when the EP is released on April 7 exclusively at Pledge Music, pledgemusic.com/troubadour77 through the purchase of an Access Pass.
Collectively, Wilson and Powell have written a dozen #1 songs and countless album cuts featured on more than 70 million records sold worldwide and have co-produced unique projects that pay tribute to The Eagles, Billy Joel and the Countrypolitan era of music. Powell was a driving force in establishing Keith Urban's career as the country star's early producer and top collaborator, earning many prestigious awards for the songs they co-wrote. A critically acclaimed recording artist, Wilson has also written songs for Lady Antebellum, Reba McEntire, Billy Ray Cyrus and penned the International theme song for Habitat for Humanity International.
"As Troubadour 77, we are writing and performing new music with a sound reminiscent of the classic singer-songwriter and California country artists that helped define our generation," explains Monty Powell. "We hope to inspire listeners to reflect on and celebrate where they are in their lives while reducing the need to rely entirely on the nostalgia of a bygone era for their entertainment."
While incorporating a classic rock style, T77's subject matter evokes today's political and social issues, as well as the circumstances and perspectives of an older, wiser audience of music lovers. In the spirit of 1960s and '70s protest music, Wilson and Powell have no qualms about addressing hot topics like gun violence and control in the EP's focus track, "I Got a Gun" and immigration controversies in "Open Home." "Steal Forever" speaks to the challenges of recapturing the magic of lost love, and "Troubadour" is dedicated to storytelling, something this songwriting team has proven to be so successful in doing throughout their accomplished careers.
Troubadour 77 has already shared billings with established acts like Brandi Carlile, and will kick off their summer tour at the sold out BottleRock Festival in Napa, CA over Memorial Day weekend. Meanwhile, the "Troubadour 77 EP" will be available at iTunes, Spotify, and all digital retailers. For more info, visit www.troubadour77.com.
https://redheadmarketingpr.com/wp-content/uploads/2014/12/RH_LogoWithTag05.jpg
0
0
admin
https://redheadmarketingpr.com/wp-content/uploads/2014/12/RH_LogoWithTag05.jpg
admin
2017-03-22 09:48:52
2017-03-22 09:48:52
Grammy Award Winners Form Troubadour 77