New studio is scheduled to open in Pinebrook in late December; Register in advance for Red Shield Founders Special benefits
A new Gracie Barra academy will open in Park City later this month. Construction of the studio in the Quarry Village area of Pinebrook is nearing completion. Led by Head Professor Ancelmo Sobrinho, Gracie Barra will offer a variety of Brazilian Jiu Jitsu programs that cater to students of all ages and abilities. From self defense to competition-level training, the Park City studio will embrace the worldwide community of Jiu Jitsu instructors, students and athletes in the local area.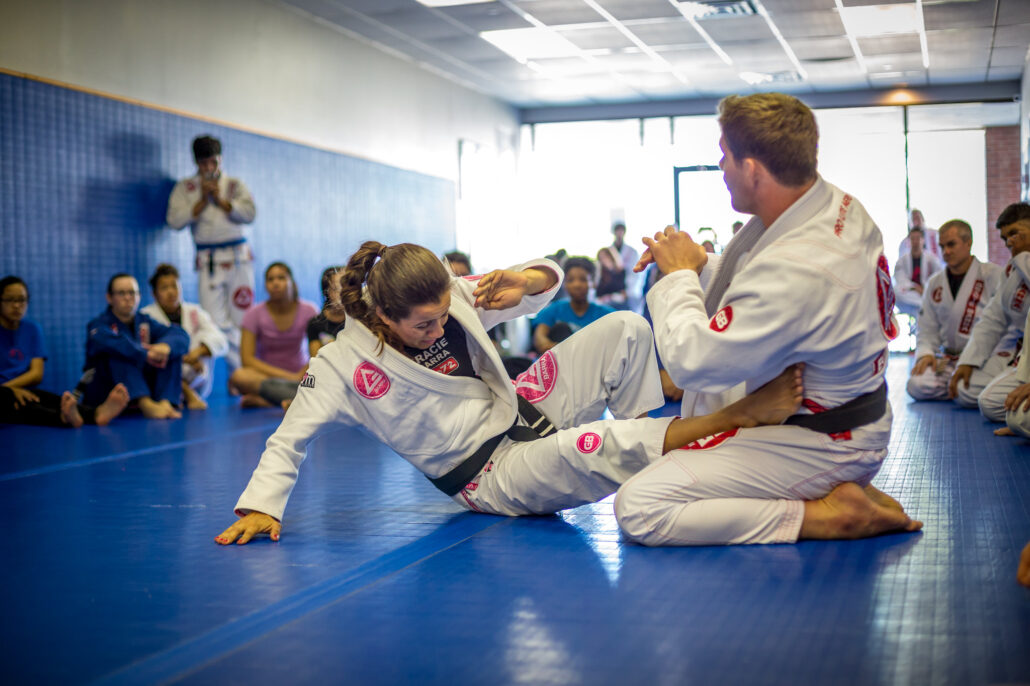 Co-owners Ignacio Rosenberg and Randi Strong believe expanding the Jiu Jitsu community in Park City is an exciting and logical endeavor.
"It just made sense for us to establish a Gracie Barra location here in Park City," says Ignacio, who is also a production designer for live corporate shows and touring music acts. "I love the idea of opening in a town that deeply shares the same core values of Gracie Barra: fitness and community. Gracie Barra is inclusive with a guiding principle of Jiu Jitsu for everyone. It's an entire community built around sharing knowledge, ideas, tips, and techniques."
An established professional dancer and choreographer, whose prolific experience includes So You Think You Can Dance, Christina Aguilera, Ariana Grande, Gilmore Girls, U.S. Figure Skating, and Dancing with the Stars, Randi Strong believes Jiu Jitsu helps people develop a stronger sense of self.
She explains, "Jiu Jitsu allows students to develop greater confidence and empowers them to stay calm in difficult situations. More than summoning all your energy and strength, it's truly about calmly thinking things through by using your brain instead of your muscle. Jiu Jitsu emphasizes the journey of personal growth rather than the end goal." She adds, "From the design and flow of our school to the feel and the lighting, I am proud of the environment we are building, and we can't wait to share it with all of Summit County." 
Ancelmo Sobrinho, Gracie Barra's Head Professor, is eager to begin classes and share his passion for Jiu Jitsu. Originally from Sao Paulo, Brazil, Ancelmo began his Jiu Jitsu journey at a young age. He has won several regional, national, and international titles. He came to Utah in 2018 where fell in love with the lifestyle. Ancelmo balances his love for Jiu Jitsu with his passion for fitness and wellness, something that resonates strongly in a community  that highly values fitness and wellness.
"Jiu Jitsu is the most special part of my life," says Ancelmo. "It's a privilege to work on a social project that emphasizes education through sport."
The Red Shield Founders Special is being offered in advance of the studio's opening for individuals interested in becoming a founding member. The Founders Special features multiple benefits, including a lifetime discounted rate, free official Gracie Barra gi and rash guard, free t-shirt, and no payments until classes start. Those interested in trying out Gracie Barra may register online for a free trial.
Ownership and staff have recently completed Gracie Barra's COVID-19 training. Safety protocols include specialized mat cleaning products, socially distanced classes, as well as private and virtual training options. The schedule has been modified to ensure more time to sanitize between classes and less crowding as one group exits and another enters. A cleaning crew conducts a weekly deep clean and has a specialized COVID/illness disinfection program in the event there is a confirmed case.
Gracie Barra Park City is located at 8178 Gorgoza Pines Rd. Suite G.
# # #
ABOUT GRACIE BARRA
Gracie Barra is an International Brazilian Jiu Jitsu Association with over 800 schools on six different continents. Gracie Barra promotes a holistic perspective to Jiu-Jitsu, including physical and mental wellness. All Gracie Barra Schools are supervised by a Gracie Barra certified instructor, who supports students and helps each one achieve their potential through challenging training programs. Each class at Gracie Barra Park City is customized to offer maximum benefit for the students in attendance.