SkinnyFATS is teaming up with one of the most talented and sought-after chefs in the country to introduce a variety of all-new concepts at HallPass, Utah's first food hall located at The Gateway in Salt Lake City. Following a successful year operating Graffiti Bao and other concepts at T-Mobile Arena and the new Raiders' stadium in Las Vegas, Marc Marrone and Todd Lunger of Graffiti Hospitality will join forces with SkinnyFATS, with Marc becoming the new chef-partner at HallPass. Together, they will launch Graffiti Bao's first location outside Nevada as part of the food hall's new restaurant portfolio debuting mid-October.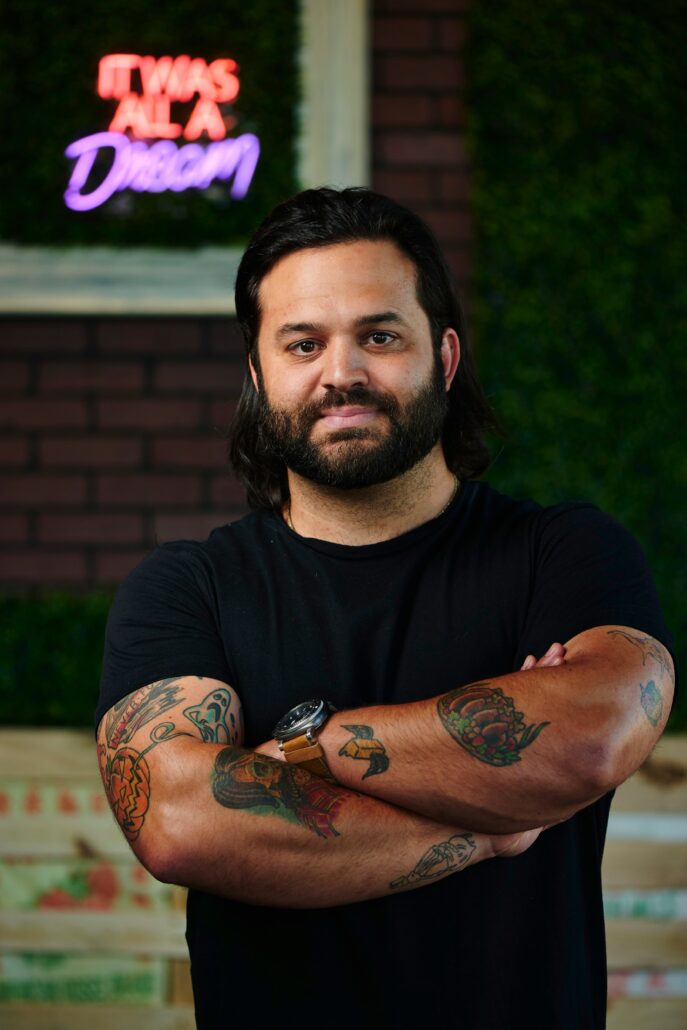 "We are thrilled to have a nationally renowned, innovative chef like Marc Marrone expand the HallPass dining offerings while further solidifying The Gateway as a foodie destination," said Jacklyn Briggs, The Gateway's marketing director. "HallPass has been such a well-received dining venue, and we look forward to Marc launching his visionary concepts this month."
Graffiti Bao is a fast-casual Chinese restaurant featuring bold, Asian-inspired recipes. Signature items will include chili garlic noodles with hand-pulled spinach noodles, crispy chili garlic sauce, Chinese broccoli and choy sum; an assortment of bao buns, including the Royale—Marc's twist on a classic cheeseburger featuring angus beef, cheese, pickles, onions and special sauce; appetizers such as hand-folded dumplings and spring rolls; soups including pho and ramen; and much more.
Marc will also helm Hibachican, a dual hibachi concept featuring a playful balance of Japanese teppanyaki, tartare and small plates alongside Mexican tacos, aguachiles and house-made chips, guacamole and assorted salsas. The best flavors of East and West will collide as some of the dishes draw inspiration from both cultures, with al pastor yakitori, garlic soy teppanyaki tacos and more rounding out the new menu.
Next door, guests will be able to satisfy their sweet tooth with an epic selection of swoon-worthy, hand-crafted treats from Waffadopolis, the ultimate dessert shop in Salt Lake City. Bringing wonder and delight to guests with a uniquely customizable experience, the confectionery will feature house-made waffle cones with flavors such as black sesame and classic; individual sweets, including Instagrammable unicorn cakes; a build-your-own-ice cream bar; over-the-top shareables and more.
"SkinnyFATS was built on constant evolution of the menu, and HallPass essentially functions as a massive R&D facility for that. Having Marc at the helm will bring HallPass to its full potential in both creation and execution," said founder Reed Allen Slobusky. "The Gateway has been an ideal venue and super supportive of the new approach to dining we are offering Salt Lake City."
"I'm excited to partner with Reed at HallPass and bring Graffiti Bao to Salt Lake City," said Marc Marrone, chef-partner at HallPass. "HallPass has already established itself as a staple in Salt Lake City, and what we have rolling out will further solidify that. Having seven different kitchens to play around with isn't so bad either."
Graffiti Bao, Hibachican and Waffadopolis will join five other eateries and bars at HallPass, including SkinnyFATS and Beer Zombies Draft Room & Beer Garden, created by founder Chris Jacobs, who has echoed Reed's excitement in working alongside Marc at Beer Zombies in Salt Lake City.
HallPass is open Sunday through Thursday from 5pm to 11pm and Friday and Saturday from 5pm to midnight. For more information, visit www.HallPassSLC.com.
ABOUT THE GATEWAY
The Gateway is a 1.4 million square foot lifestyle destination in the heart of Downtown Salt Lake City. Owned and managed by Vestar, the property recently underwent a $100 million redevelopment—infusing retail and dining, entertainment, modern office space, arts and culture, a boutique hotel, and a full calendar of community-driven events. www.atthegateway.com.
ABOUT SKINNYFATS
Established in 2013 by Reed Allen Slobusky, SkinnyFATS is a popular American restaurant from Las Vegas that is well-known for its one-of-a-kind, two-sided menu featuring 'Happy' indulgences and 'Healthy' alternatives. A melting pot of cultural favorites with thoughtful ingredients and savory flavors, the menu caters to a variety of dietary needs and preferences while providing tasty meals and snacks. Since opening in 2013, the brand has developed a cult-like following, attracting foodies from around the world to its six locations in Las Vegas and Dallas, as well as its popular new food hall in Salt Lake City called HallPass. For more information, please visit www.SkinnyFATS.com.
ABOUT HALLPASS
Brought to foodies by the same owner as SkinnyFATS, HallPass is a first-of-its-kind food hall concept located at the Gateway in Salt Lake City. Featuring more than 15,000 square feet of stylish indoor/outdoor communal dining and chef-driven fare, HallPass allows guests to discover bold new cuisines in an environment filled with an eclectic mix of art, music, food, drinks and fun, including all-new restaurants helmed by chef-partner Marc Marrone. Innovative culinary concept SkinnyFATS anchors the food hall, bringing the beloved Las Vegas staple east of the Nevada border to satisfy more guests than ever before. For more information, please visit www.HallPassSLC.com.
ABOUT MARC MARRONE
Cooking since the age of 15, Chef Marc Marrone was first inspired by the treasured recipes handed down in his New York Italian family. After receiving his culinary degree from the French Culinary Institute, Marrone rose through the ranks of the original TAO kitchen, starting as a sous chef and working his way up to the top as West Coast Corporate Executive Chef of TAO Group, leading the TAO Group restaurants, including TAO Las Vegas, Beauty & Essex, LAVO and Marquee Dayclub in Las Vegas; TAO Los Angeles, The Highlight Room and Luchini Pizzeria & Bar in Los Angeles; and LAVO atop the Marina Bay Sands in Singapore. With a heritage of Italian cooking and classical French training, Marrone is equally passionate about Asian techniques. Since leaving his position with TAO Group in February 2019, he has premiered Graffiti Bao, Piña Mexican and Gemma Gemma Square Pies, with the announcement of a forthcoming concept called Italian Graffiti, coming to The Bend in 2022, rounding out his recent accolades. Together with partner Todd Lunger, Marrone has formed a consulting group called Graffiti Group Hospitality LLC. Marrone is also a chef consultant for Locale Italian Kitchen in Las Vegas and remains a vital chef and visionary within the restaurant community.